Aamun epämiellyttävä uutinen...

EU päättää pian lakialoitteesta, joka pakottaa asentamaan salakuunteluun tarkoitetut salausavaimet internet-selaimiin. Tämä tarkoittaa, että kaikki tähän asti yksityinen tiedonsiirto EU-alueella tallennetaan ja tarkistetaan väärän sisällön varalta.

SoMe-viesteihin, uutisiin, deittisovelluksiin, verkkopankkeihin, kaikkiin yhteyksiin tullaan väliin kuuntelemaan ja estämään valtiolle epämieluisa kommunikaatio. Eikä asiasta paljoa ole yleistä haloota.

https://last-chance-for-eidas.org

#yksityisyys #sensuuri #nettiyhteys
Ensimmäisen kirjan julkaisu maanantaina 😁

Kyberturvan pelisäännöt pienyrityksille (kavereille Kyberturvakirja) on helposti lähestyttävä kirja kyberturvan hallinnoinnista, arvioinnista ja kehittämisestä pienen yrityksen pienin resurssein. Kirjan loppuosassa kootaan yhteen yleiset kyberturvan perusteet aakkostettuina pelisääntöinä.

Maanantaina myös eKirja julkaistaan ilmaiseksi verkossa, ja kirjan käsikirjoitus siirtyy Githubiin vapaasti muokattavaksi avoimen CC-BY-lisenssin alla.

Kirjoittajat: Juhani Naskali, Mikko Vermanen, Jani Koskinen

Julkaisutilaisuus Turussa ensi maanantaina klo 14: https://link.webropolsurveys.com/S/AB80E979AC4314B3

#kyberturvakirja #kyberturva #tietoturva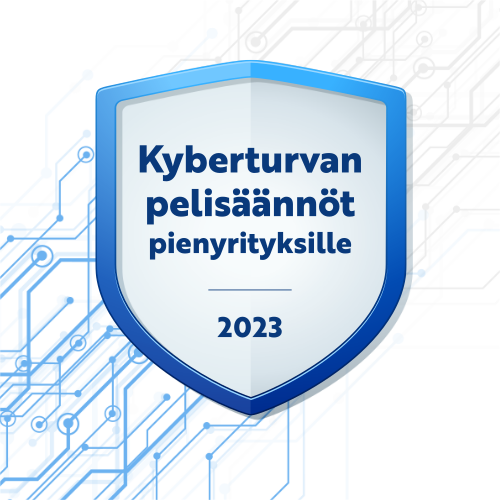 I wrote a book with Mikko Vermanen and Jani Koskinen, called Kyberturvan pelisäännöt pienyrityksille (Ground Rules of Cyber Security for Small Businesses). It was published by university of Turku, and is freely available online (in Finnish). The book includes basic information on cyber security management—how to conduct a risk analysis, manage strategic components of information security and assess its current state. It also lists the generally adviseable ground rules of…
GitHub is a leading platform for software collaboration, and offers a lot of features for this end. Beyond its core…
Open Source is needed for AI to become not just functionally reliable but Good. Many of the general benefits to open source also apply for LLMs. Open source speeds up AI adoption and development, transparency help combat bias.
Is Zoom using your video calls to train AI? Somebody went through Zoom's terms of service with a fine comb,…
About me
Currently working as a Information System Architect for Research IT at university of Turku, while part-timing as a doctoral researcher.
Future Ethics Researcher
Finding things out about modern culture, ethics and technology at the Future Ethics research group, Turku School of Economics.
System Architect
Developing and consulting on new research information systems that serve people over things.
I'm interested in what we should do using technology. Both in the practical sense, of what's the most prudent use of tech to reach real-world goals, and in the ethical sense of what's right.
I've worked as a teacher, programmer, consultant, project manager, IT Architect and CTO. Currently, I'm an Information System Architect for Research IT at University of Turku. I design the technical side of research platforms, such as Flavoria, a lunch restaurant that incorporates smart scales and multi-sensory environments.
I'm a founding member of Suotava Oy (Oughtness Inc), who specialize in ethical IS consulting. I also run a small-time IT consultancy firm called eDeus, where I try to keep up with what's new in practical web development.
That's all, folks!
I commend you for reading this far, but do take a look at my writing on the blog section.